National Tradesperson Day
September 17 2021, 13:21 PM
The third Friday of September is recognized as National Tradesperson Day to celebrate the important contributions of skilled trades workers across the country.
From our carpenters to our millwrights, and our electricians to our welders, skilled trades play a key role in providing safe and reliable energy to New Brunswickers.
We'd like to introduce you to Chad Crawford, a Mechanical Maintainer on the NB Power team.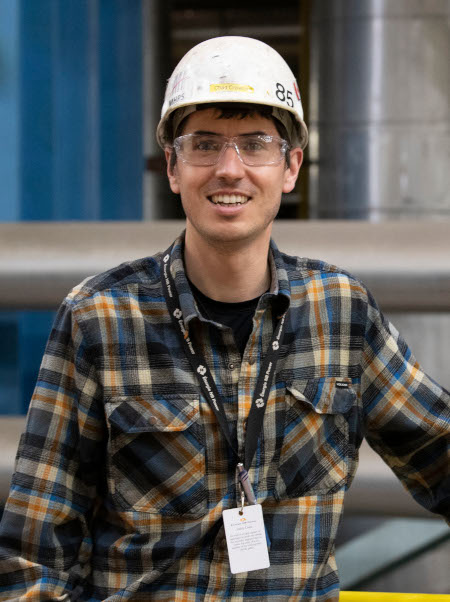 Born and raised in the Moncton area, Chad says he was a very hands-on child, always taking things apart and trying to rebuild them.
His high school shop teacher recognized his passion and skill, recommending the Industrial Mechanic program at the New Brunswick Community College (NBCC) after graduation. Chad completed the program and worked his way through apprenticeships and testing to achieve his Red Seal, referred to by many as his ticket.
Staying in his home province was always a goal, so Chad was excited to accept a full-time position at the Coleson Cove Generating Station in 2015.
As the Lead Hand for the Unit 2 turbine system, Chad is responsible for repairs and maintenance on one of the three 350 megawatt units located just outside of Saint John.
"The team at Coleson Cove is fantastic," Chad says. "I like that every day there's a new challenge – and I never back away from an opportunity to learn more. The first couple of years in this role were about learning the systems in the plant and now I'm able to specialize my skills a bit."
As the father of two young children, Chad values NB Power's strong workplace safety culture.
"Safety at NB Power job sites is unlike anything else I've seen," he said. "We have the tools, resources and knowledge to keep everyone safe – it's up to each of us to own our personal safety and look out for one another. I feel confident knowing that if I encounter a safety issue, it will be fixed before anyone is in harm's way. That gives me peace of mind that I'll make it home each day to my wife and kids."
Chad is proud to represent skilled trades at NB Power and suggests that more young people explore a career in the trades.
"I've always said if you get a trade, it stays with you your whole life," he said. "There is tremendous earning potential and so many opportunities to do meaningful and challenging work right here in New Brunswick. The need for skilled tradespeople keeps growing. I highly encourage students to learn more about the great programs offered at NBCC. You might just end up in your dream job."