Kathleen Duguay Receives National Award Recognizing her Contributions to Nuclear Education and Communication
July 7 2020, 11:44 AM
Ask anyone in the communities around the Point Lepreau Nuclear Generating Station (PLNGS) who their go-to person is for questions about the plant, and 99% will point you to Kathleen Duguay.
As NB Power's Manager of Community Affairs and Nuclear Regulatory Protocol, she is often the "face" of the Station and has fostered many important relationships with nearby residents, First Nations communities and stakeholders.
Kathleen was recently awarded with a national Education and Communication Award from the Canadian Nuclear Society (CNS) and the Canadian Nuclear Association (CNA) to recognize her outstanding career.
During her 32 years at NB Power, Kathleen has demonstrated a sustained and unwavering commitment to external education and communication about nuclear power and the operation of PLNGS.  Her work has created and maintained the "social licence" for the generating station.  Through Kathleen's natural ability to actively listen and connect with people, she has put a friendly face on the nuclear community in New Brunswick.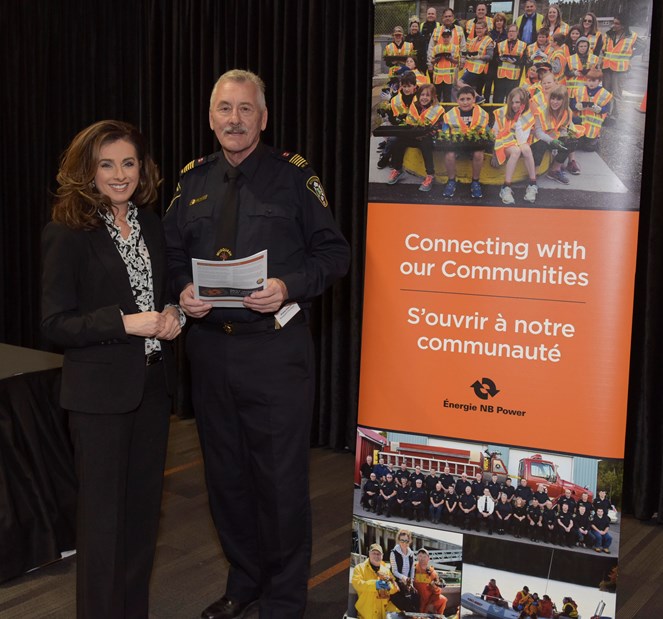 This strong capacity for relationship building with a diversity of groups and individuals has allowed her to build trust and respect with various stakeholders and rightsholders at the local, provincial, national and international levels throughout the years including First Nations, special interest groups, the local community, the general public, workers, contractors, government, regulators and the media.
She is an industry leader in community relations who has cultivated deep roots throughout New Brunswick. By being transparent, trustworthy and accessible, Kathleen has developed lasting relationships with everyone from the lobster fishermen who work the waters near Point Lepreau to members of First Nation communities in all corners of the province.
A great example of her strong commitment to transparency and nuclear education is the establishment of a Community Relations Liaison Committees at Point Lepreau. The Committee has served as a vehicle for two-way information sharing in the communities around the Station for the past 25 years. The fact that Kathleen has co-chaired this Committee for more than two decades is an accomplishment on its own.  
"Making sure our neighbours know what is happening at the Station is one of our most important jobs," said Kathleen. "The relationships we have built with our Committee members are based on trust, respect and transparency. Members know that they can count on us for honest and timely updates on the things that matter to them. Through this Committee and other activities, we demonstrate our personal accountability to community engagement."
Her work played an important role in bringing an outside perspective into the nuclear industry, to improve awareness and understanding, and to influence the way business is performed. As part of Point Lepreau's public communication program, she developed various newsletters, brochures, school age-specific materials, plant updates and videos that showcase the power plant throughout its lifecycle, with a strong focus on the safety of workers, the community, and the environment.
For many years, Kathleen was the Media Relations Manager and the voice of NB Power, sharing the utility's story with the local, provincial and national media. In that role, she also led communications and community relations efforts during the refurbishment of PLNGS.
She has managed community relations programs for other NB Power initiatives and projects across the province. Kathleen is no stranger to the inside of the nuclear plant where she began her career with Point Lepreau and has acted as a Radiation Protection Assistant and Human Performance Manager. She is also a seasoned member of the Station's Emergency Response Incident Command Team.
A New Brunswicker through and through, Kathleen is also an active volunteer in her community, and she has brought her communication skills and love of New Brunswick to a host of important initiatives of benefit to her community.
Canadian Nuclear Achievement Award recipients were nominated by their colleagues, community members and nuclear peers for leadership, dedication, and passion for nuclear power. 
All of us at NB Power would like to congratulate Kathleen on this well-deserved award and an exceptional career serving New Brunswickers, employees and the nuclear industry.