Local nuclear expert Paul Thompson Receives Award for Industry Contributions
July 21 2020, 10:03 AM
Whether he's presenting a safety case to the nuclear regulator, or showing kids how nuclear power is generated, Paul Thompson is in his element. Combine his extensive technical knowledge with his cheerful personality and great sense of humour, and you've got one of our region's most trusted experts on nuclear power.
Over his 40 plus-year career, most of which at the Point Lepreau Generating Station (PLNGS), Paul has made important contributions, both technical and non-technical, to the nuclear industry. Respected by his peers for his passion for everything related to nuclear safety and nuclear asset management, Paul continues to be an invaluable part of the NB Power team.
He recently received the Harold A. Smith Outstanding Contribution Award by the Canadian Nuclear Society (CNS) and the Canadian Nuclear Association (CNA) for his extensive contributions to the Canadian nuclear industry. The award highlighted his work involving nuclear power plant safety, plant life extension, and the development of Advanced Small Modular Reactors (SMRs) here in New Brunswick.
"I am truly honoured to be recognized by my peers and am humbled when I look at current and past award recipients," said Paul. "I have been extremely fortunate throughout my career to work in such a great industry at such a wonderful company. I've been able to work on exciting and interesting projects alongside so many amazing energy experts. As they say, it really is not work if you enjoy your job!"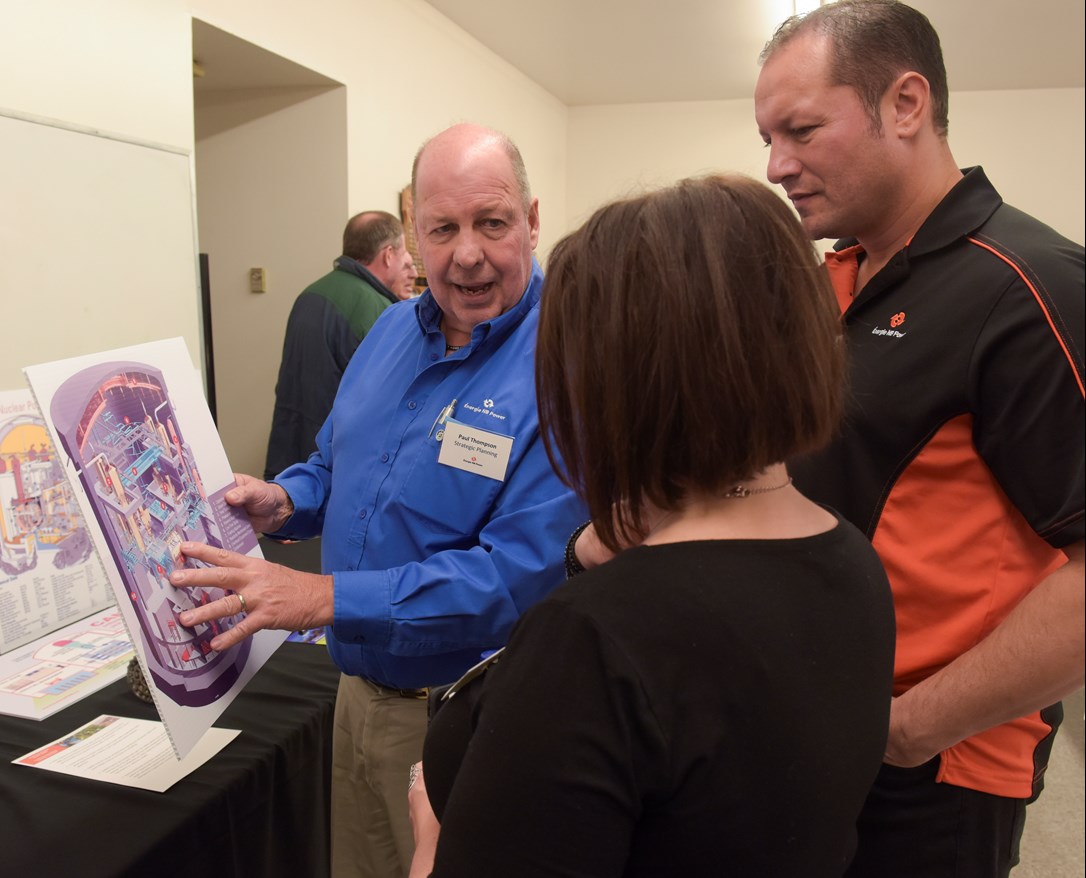 Paul started his nuclear journey graduating from the Engineering Mathematics program at Queen's University, specializing in the fields of Thermal Sciences and Nuclear Engineering. 
Paul has led many successful teams at NB Power, including Nuclear Safety, Regulatory Affairs, Emergency Preparedness, Security and Fire and Performance Improvement. A real team player, he has always found time to support other projects and working groups both within the company and the industry.
Paul has also been a regular point of contact with the Canadian Nuclear Safety Commission at hearings and meetings, has served as a Board Member for the CANDU Owners Group (COG), as well as a Board member for the Centre for Nuclear Energy Research - a research arm of the University of New Brunswick. He also remains an active member and contributor to the CNS, authoring and co-authoring several papers to assist his peers.   He has also held the position of CNS President twice and has been involved with the organization of numerous conferences.
"Throughout my years at Lepreau, one of my main objectives has always been to ensure that our values of safety, quality, diversity and innovation are reflected in all aspects of nuclear in New Brunswick," says Paul. "I believe that this is being demonstrated every day by the dedicated nuclear team at Point Lepreau. Collaboration, teamwork and the expertise of my peers all play a significant part in the successful operation of the station on a daily basis."
Most recently, Paul was the Station's Deputy Chief Nuclear Officer, prior to his retirement in 2019. Paul has remained a key part of the team as a Senior Strategic Advisor responsible for assessing the development of Advanced SMRs.
"I believe that nuclear energy has a key role to play in our vision of sustainable energy for future generations," he indicated. "New Brunswick is well positioned to benefit from new opportunities thanks to the know-how of our people and the tremendous asset we have in Point Lepreau."
Canadian Nuclear Achievement Award recipients were nominated by their colleagues, community members and nuclear peers for leadership, dedication, and passion for nuclear power.
All of us at NB Power would like to congratulate Paul on a remarkable career in the nuclear industry here in New Brunswick and this well-earned award.