Educational Awards
Auction Items and Gift Card Tree items Required.
The 25 Year Club will be celebrating our 60th anniversary on June 7, 2024! The event will be held in Fredericton at the Convention Center. Planning is currently underway to make this anniversary a special one for new members, those celebrating milestones, and all other club members. Mark your calendars and stay tuned for further communications.
The 25 Year Club will also be fundraising in support of the annual education awards, with a goal of increasing the number of awards in 2024, to coincide with the 60th anniversary celebration. As always, auction items (new or gently used) and donation of gift cards for the gift card tree are appreciated and can be made via our Club Executive and Regional Directors.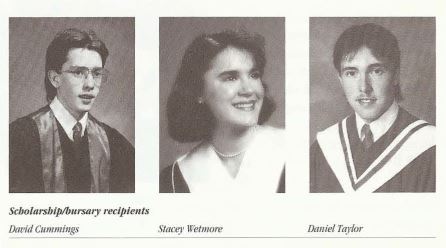 Educational Awards 1991
In 1991, the 25 Year Club of NB Power established the 25 Year Club Educational Award program supporting children of 25 year club members in good standing based on the club's financial wellbeing.
What does good standing mean?  It means an active member of the 25 Year Club who is current with their membership dues.
In 2014 at the Annual General Meeting, the decision was made to change from educational scholarships to educational awards.  This change supported all students regardless of their academic or financial standing.  Making this change was the club's effort to be fair to all students striving to continue their education who may not meet the academic rating threshold and to remove any perceived award judgement based on the financial situation of any student.
Additionally at the 2014 AGM, a motion was made that the club expand the criteria for the educational awards to include grandchildren of 25 Year Club members in good standing.
Rules of Eligibility:
Applicants must meet all of the following criteria:
be the son, daughter, grandchild of a 25 Year Club member in good standing, and
plan to continue post-secondary education on a full-time basis at a University, Community College, Technical School or other such institution for the upcoming school year, and:
has never previously received this award.
Applications must be made in writing using the club supplied application form and submitted to the club prior to the cut-off date indicated.
The winners are notified by e-mail of their success.  The list of winners will also be posted on the 25 Year Club web site. 
Confirmation of enrolment from each winner's post-secondary education institution is required prior to the issuing of the award funds.
So, how do we fund these awards?
50/50 draw – all members receive 50/50 tickets in their annual package for purchase, tickets are also sold during the annual event up to the beginning of the AGM
Silent and live auction – members and some non-members donate items towards these auctions each year in order to raise money during the annual event
Basket draws – each year during the annual event there are several basket draws that raise additional money – the basket contents are donated by members and volunteers that work at the event
Educational Awards 2023
Keenan Metallic
Keri Ring
Nicolas Richard
Kaitlyn Wilson
Sean Morrison
Abram Stockhouse
Caitlyn Youngblood
Heidi Evans
Peter Row
Christophe Affinito