PowerShift Atlantic

Clean Collaboration
PowerShift Atlantic, a multi-year initiative, launched in 2010 as one of Natural Resource Canada's 19 Clean Energy Fund projects conducted nationwide. It was focused on finding more effective ways to integrate renewable energy sources such as wind energy into our electricity system, with demonstration programs for residential and commercial customers across the Maritimes.
PowerShift Atlantic demonstrated one of the world's first fully grid-integrated virtual power plants designed  to allow for more effective integration of wind power. Unlike typical demand response services, the virtual power plant uses load and wind forecasting and aggregation capabilities to perform near real-time load shifting of commercial and residential loads and provide new ancillary services to the grid. The end-uses targeted have storage capacity such has electric water heaters and electric thermal storage heating.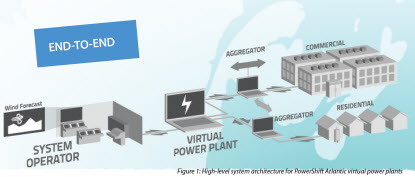 Maritime customers actively participated in the demonstration project. Demonstration programs connected with residential and commercial utility customers across the region. As of March 2015, the research project is now complete.
By remotely shifting cycles a few minutes here and there and combining loads from many customers – PowerShift Atlantic demonstrated ways to optimize wind-generated energy, without requiring change in customer behaviour or consumption.
The primary objective of this demonstration and research was to determine if load shifting can provide an economic and effective alternative to building new supply side ancillary services for the integration of wind with minimal or no disruption to participating utility customers. Following the demonstration phase a business case and final report were issued.
The demonstration phase reached over 17 MW at full capacity. 17 MW is enough energy to power approximately 11,500 electrically heated homes.
Final Report For Clean Energy Fund (CEF)
Customers Connected

Awards
Residential and commercial customers across the region were connected, participated and engaged in a truly innovative and valuable way.
The research project has attracted attention at smart grid conferences as well as awards:
Canadian Electrical Association Sustainable Electricity Award for Economic Excellence (2012)
The Canadian Wind Energy Association R.J. Templin Award for work that has significantly advanced the wind energy industry in Canada (2012)
2014 Peak Load Management Alliance (PLMA) Award for Innovative Application of Technology